Mobile device management with the latest Android technology
WizyEMM is the first mobile device management solution focused exclusively on Android Enterprise. We built our solution from the ground up for Android, using the newest Android Management API. We are the best-in-breed mobile device management for your Android Enterprise deployments.
Powerful and native
We are native to all Android devices. There is no need to install an agent on a device in order to enroll it into our mobile device management, because we use the Google-developed agent which is native to all Android GMS devices, running version 6.0 and above. Enrollment into WizyEMM is made quick and easy. Because we use the latest Android Management API, we can offer a consistent management experience across all Android devices. Read more about Android Management API.
Keeping it simple
We built our mobile device management solution for Android only. This allowed us to avoid the complexities you find in many other MDMs which revolve around managing many different OS types. Their complexity in turn translates to needing extensive and expensive training just to get started. We focused on Android, and this makes our mobile device management solution super simple to use.
Supporting migration from Windows CE
As Windows is progressively leaving the mobility market, we are here to assist our customers in refreshing their fleet of mobile devices. We partner with products like Ivanti Velocity to enable our customers to push their green screen applications directly onto their new Android devices, without needing to redevelop them. Quickly future proof your business with our mobile device management solution. Learn More
Ensure devices are always productive
Maintain devices up and running in the field
Upload, push, configure and update apps

Start applications remotely

Push files

Send message 

Remote control

Live feedback on device configurations with the feedback channel
Set up alerts to be kept informed on any configuration issues
Always keep an eye on your Console 
Secure devices with a list of over 50 different policies
Make sure corporate data is not compromised
Hardware policies (Disable Camera, VPN…)

Network policies (Disable Calls, SMS…)

Network configurations
Know where devices are in the field
Be aware of where your devices are in the field
Enroll devices in seconds
Streamline device enrollment 
Zero-touch enrollment

NFC

QR code

EMM token
Your device list at a glance
Organize multiple levels with labels; filter and perform mass actions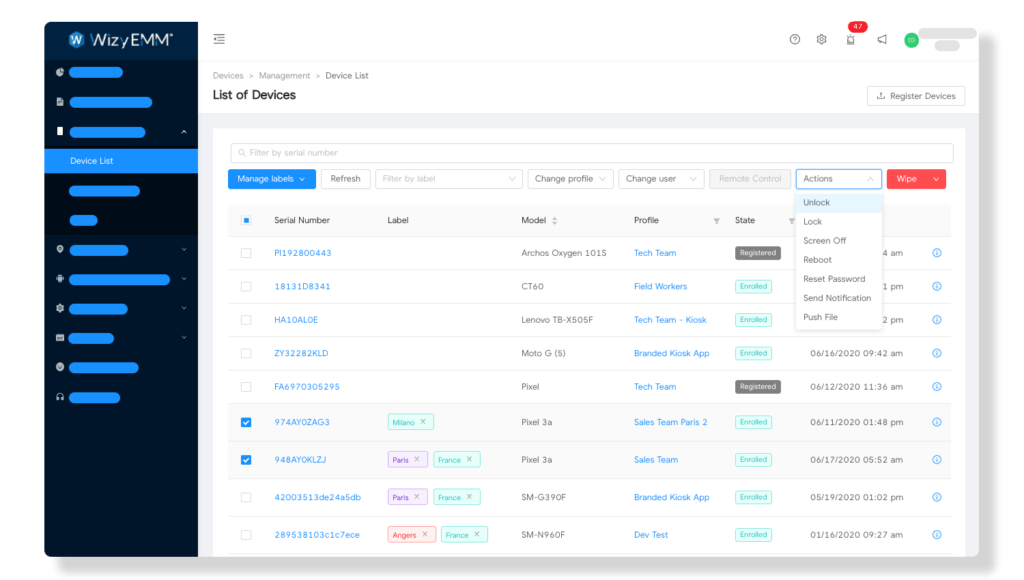 Quick access to alerts and events
Set up alerts to be kept informed on any events or configuration issues