Fast easy and secure Android App management
Business applications must be secured and configured quickly when they arrive on mobile devices, to avoid any risk from a security standpoint, and to avoid any downtime due to applications misconfigurations. We take care of these key elements for you. Using the managed Google Play store, it only takes seconds to select, configure and deploy public, private or web apps.
Users can also quickly deploy tracks of their internal applications to their enrolled devices, to quickly test new application updates in the field. With WizyEMM Android app management, IT admins have full control over device applications.
Main Features
Securely deploy and manage applications with WizyEMM Android App Management
Upload or select applications to manage
Choose your applications from the public Google Play store, or upload your own private APKs
Public Apps

Private Apps

Web Apps

System Apps
Deploy application tracks for testing purposes
Deploy a specific application version to devices, as defined by your app developers in the Google Play console
Distribute applications silently
Automatically distribute your applications in 2 clicks, and choose how you want to install them
Whitelist

Blacklist

Silent app distribution

Force install
Update applications over the air
Choose when and how you want to update your applications over the air
Scheduled updates

Only over wifi

Always
Configure applications remotely
Configure applications using managed configurations
Example: blocking URLs in Chrome
Bring back application logs with the feedback channel
Get informed automatically of any application misconfiguration
Example: managed configuration not applied correctly on a device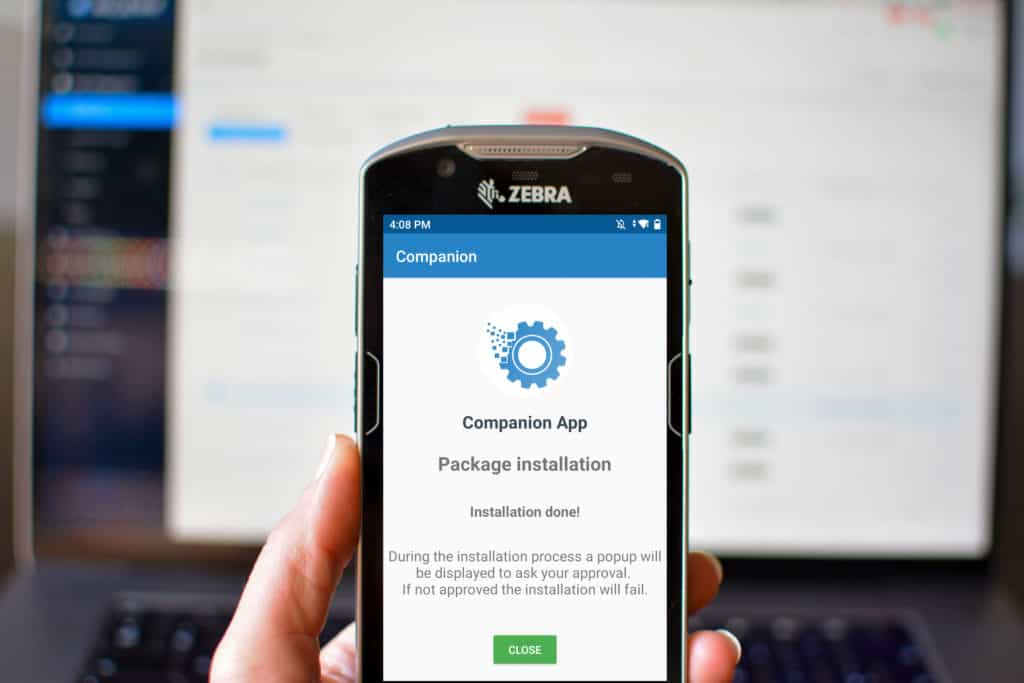 Managed Google Play Store
Deploy your business app to a private Play Store only visible to your company
WizyEMM partnered with Google to offer easy deployment, securitization, and management of applications through managed Google Play store. Distributing business applications the right way is critical to ensure a successful mobility strategy, and we found that Google handles Application Management the best. Expanding on the Google Play store capabilities, managed Google Play store is built for enterprise. It allows WizyEMM users to select public applications, upload private apps, or create web apps in a few clicks. Managed Google Play store is the most scalable and secure Mobile app management there is, thanks to its anti-malware software Play Protect, and its global reach. Learn more: Brian Madden "An-introduction-to-managed-Google-Play"
Sideload your business apps
Deploy your business app to your corporate fleet
Sometimes business apps cannot be pushed to the Managed Google Play Store even though we strongly recommend to do so for obvious security reasons. WizyEMM allows you to push automatically your APK directly to your Android device without hosting the app to the Google Play Store. Learn more about managing and pushing sideloaded apps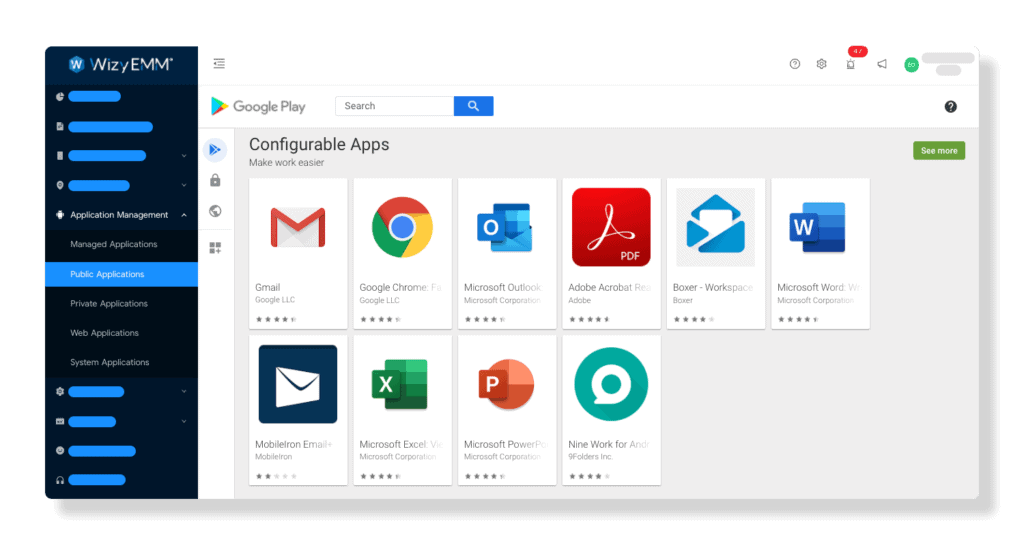 Easily access and select public apps from the Play Store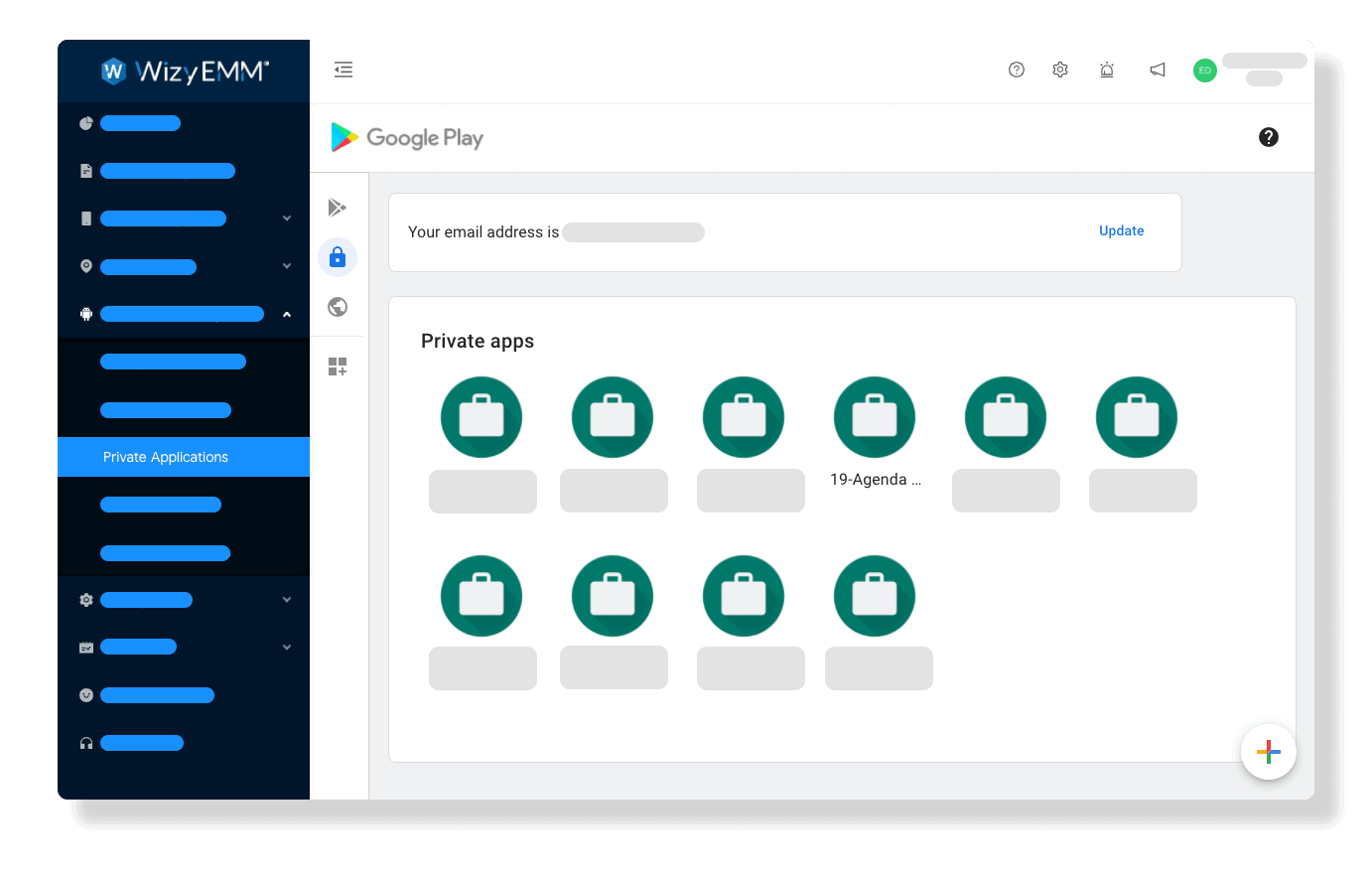 Push your Private Apps to your Android fleet
Advanced Android App Management functionalities
WizyEMM went further than legacy Mobile Application Management solutions, by integrating advanced Google Play functionalities such as managed configurations, application tracks selection, and the feedback channel. Users can also quickly configure their applications with managed configurations, a new Android standard supported by Google Play. WizyEMM also integrates with the feedback channel, which allows IT admins to view application logs on supported applications.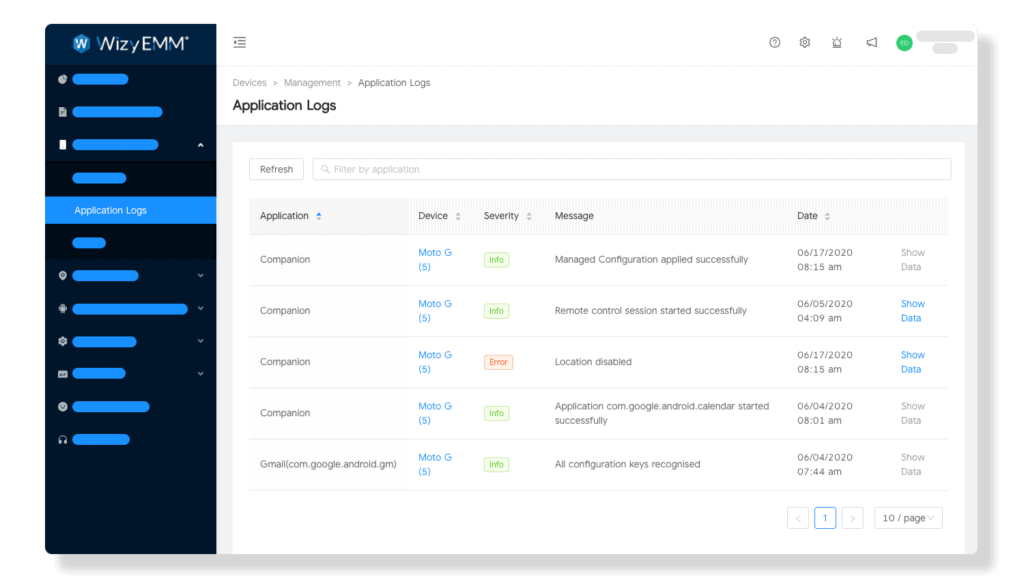 The feedback channel allows IT admins to receive feedback about the status of the apps installed on the devices they manage.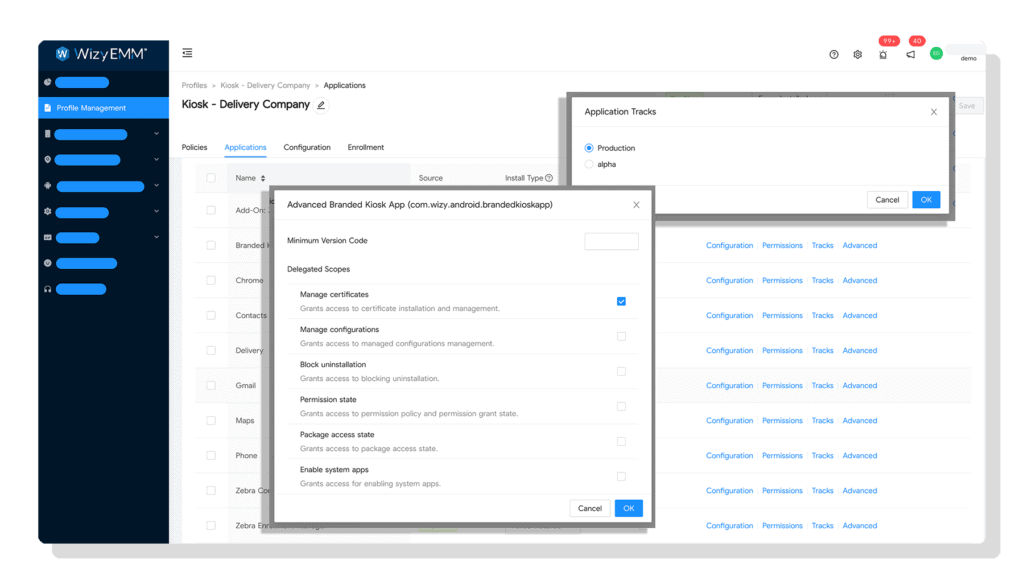 Managed configurations, Application tracks selection, minimum version code and more advanced features