Powerful and native Android MDM
WizyEMM is the first Android MDM solution focused exclusively on Android Enterprise. We built our solution from the ground up for Android, using the newest Android Management API. We are the best-in-breed mobile device management for Android Enterprise deployments, 100% aligned with new Android Enterprise standards.
Android Device Management
Consistent, powerful and flexible management capabilities for Android Enterprise with strict set of enterprise grade requirements.
App distribution
Managed Google Play Store provides robust application distribution and configuration coupled tightly with Google Play Protect's anti-malware protection.
Security Management
Providing enterprise customers with robust security features and controls. Validated Advanced Features management sets for Android Enterprise.
Android MDM with the latest technology
Manage, secure and control your Android devices Fleet
Ensure devices are always productive
Maintain devices up and running in the field
Upload, push, configure and update apps

Start applications remotely

Send message 

Remote control

Live feedback on device configurations with the feedback channel
Enroll devices in seconds
Streamline device enrollment 
Secure devices with a list of over 50 different policies
Make sure corporate data is not compromised
Hardware policies (Disable Camera, VPN…)

Network policies (Disable Calls, SMS…)

Network configurations
Manage files
Push files to your devices
Sync files from the device to a server
Set up alerts to be kept informed on any configuration issues
Always keep an eye on your Console 
Know where devices are in the field
Be aware of where your devices are in the field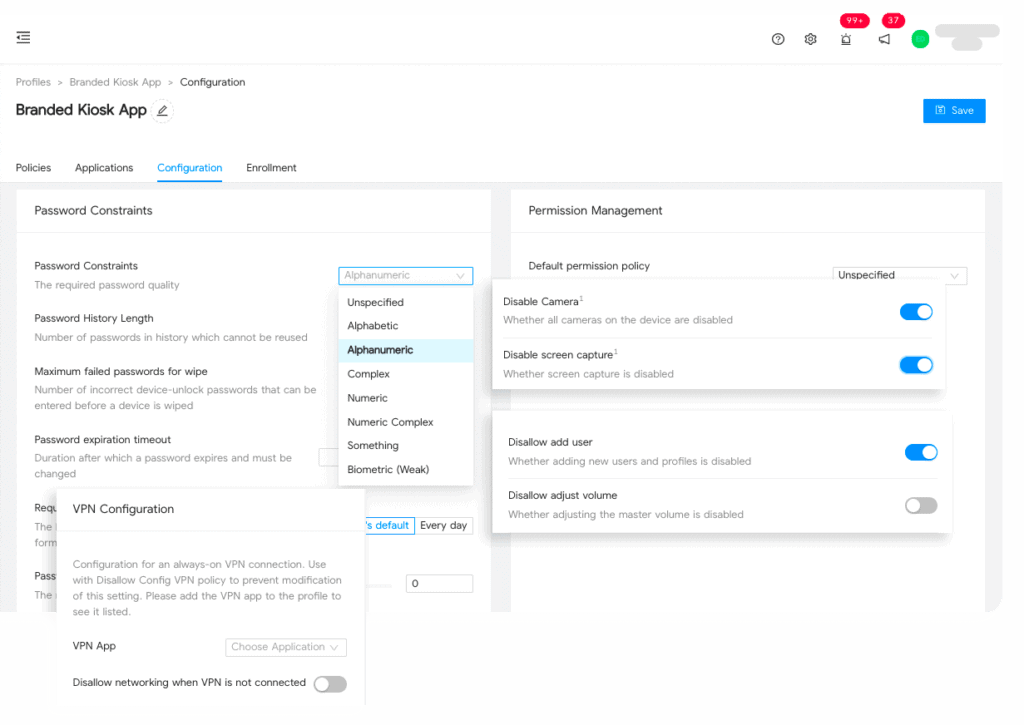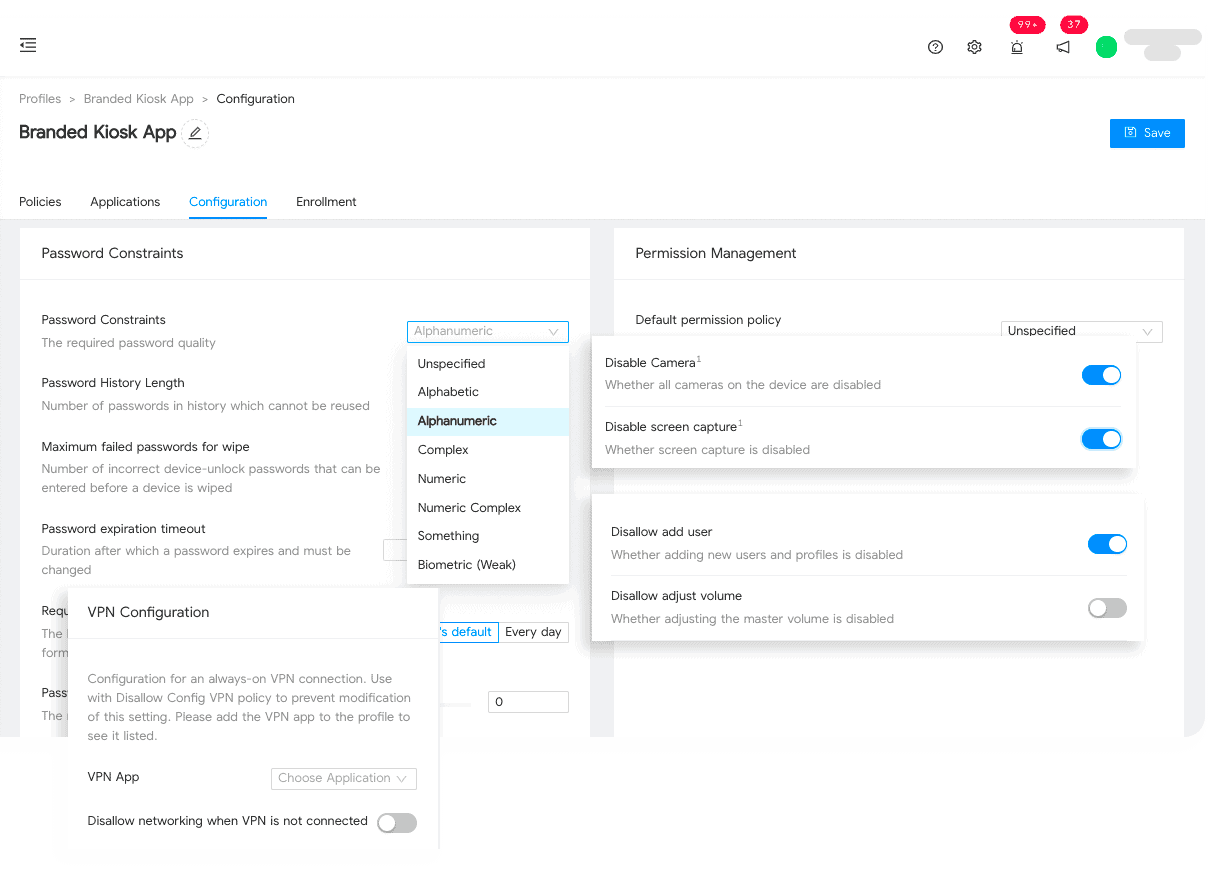 Secure Android MDM Software
Protect you corporate data with Device Security and Policies
Enforce Screen lock
Wipe or block devices remotely
Always on malware protection thanks to Google Play Protect
Prevent sideloading of apps
Enforce policies
Block the devices when they leave a fencing area
Enforce strong password
Configure secured networks. Push certificates / VPN / Proxy / EAP / TLS / TTLS Wifi with password
Lock you device with single or multi-app Kiosk mode, prevent access to system settings or any other apps
Prevent from factory reset
Blacklist websites under Chrome
Learn more about Android Mobile security
Device Enrollment Methods for Android
Selecting the best enrollment method depends on your use case.
Android zero-touch
Deploy thousands of phones in a few clicks.
Deploy fleets of devices instantly
Secured out of the box
NFC tag
Set up a new device by bumping an NFC tag. Using NFC for enrollment is quicker compared to the QR Code and afw#setup methods. The NFC tag holds a NFC configuration file which contains all the information required by the Android device to enroll into WizyEMM. Learn more about NFC enrollment
QR Code
Enrol a device from the setup wizard by easily scanning a QR code. From Android 9 and + this QR Code can also contain the Wifi settings to speed up the enrollment process. Learn more about QR Code enrollment
KME
Samsung Knox Mobile Enrollment automated solution that allows IT admins to enroll a large number of devices to their MDM for corporate use
MDM for Android made easy with our simple console
Your Android fleet at a glance: Organize multiple levels with labels, filter and perform mass actions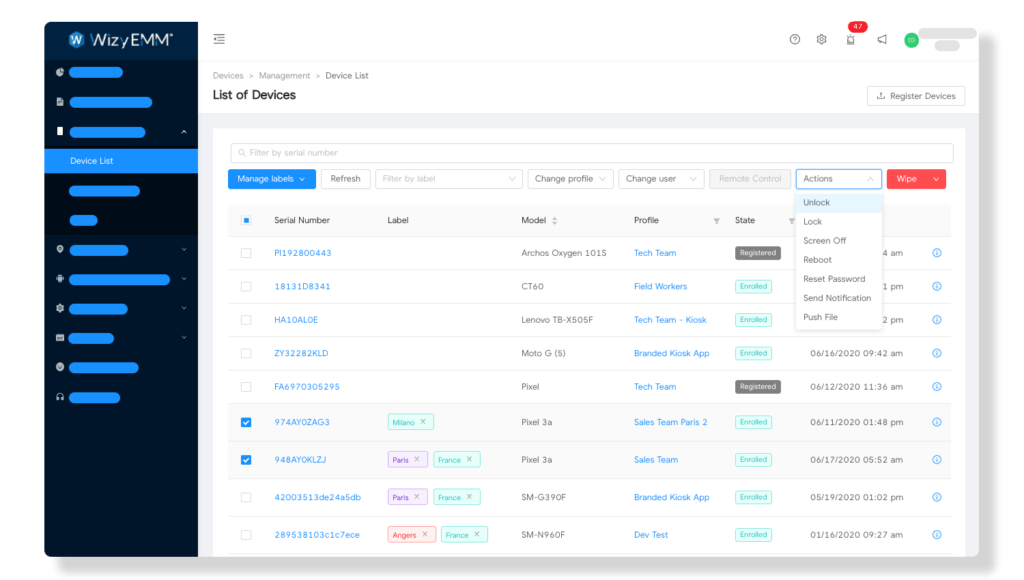 Quick access to alerts and events: Set up alerts to be kept informed on any events or configuration issues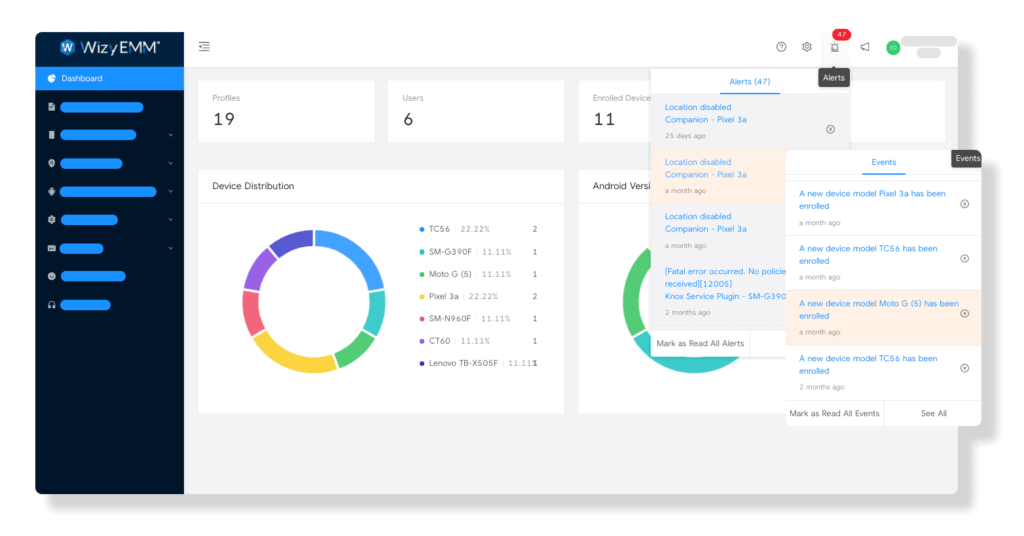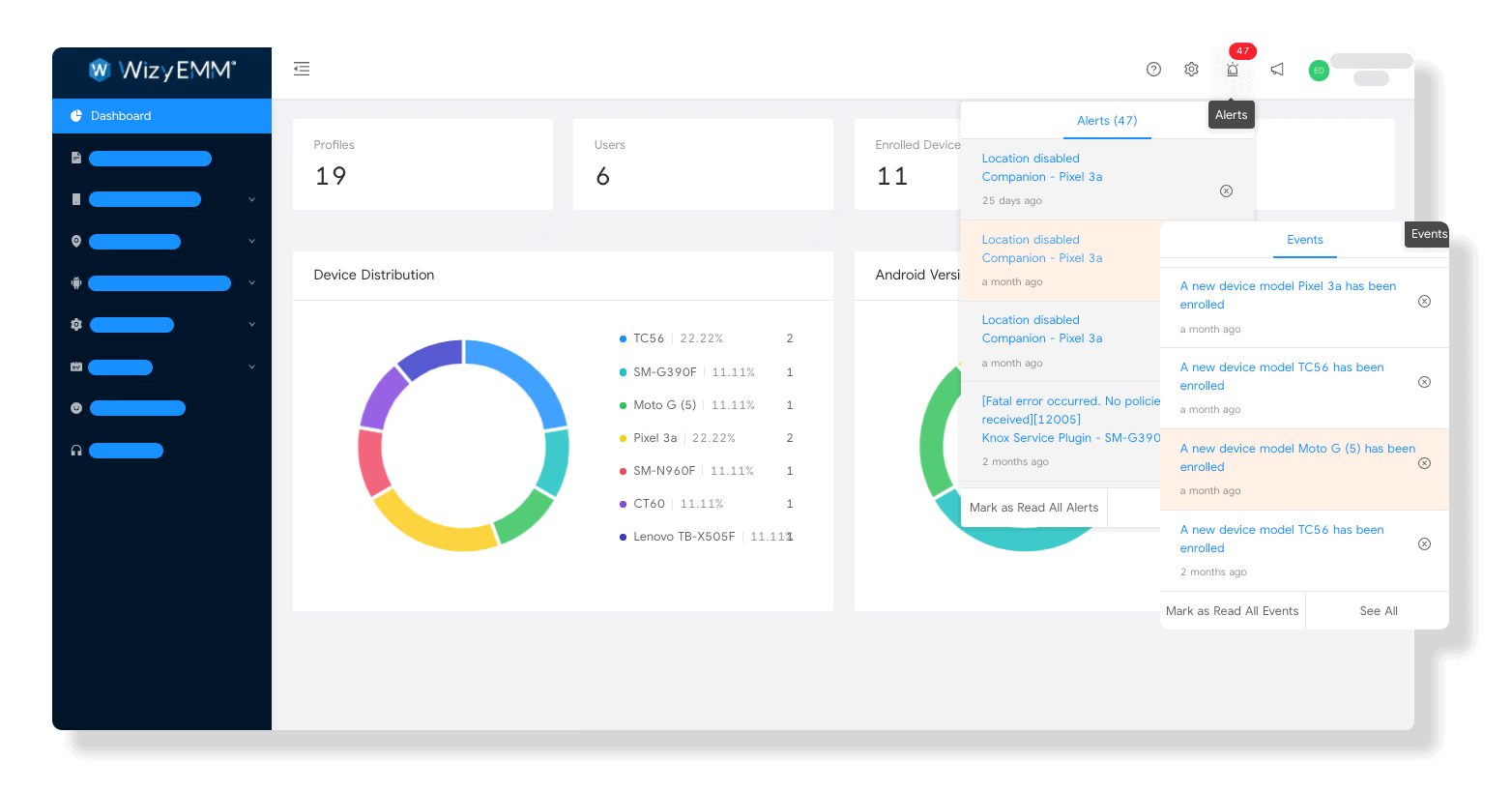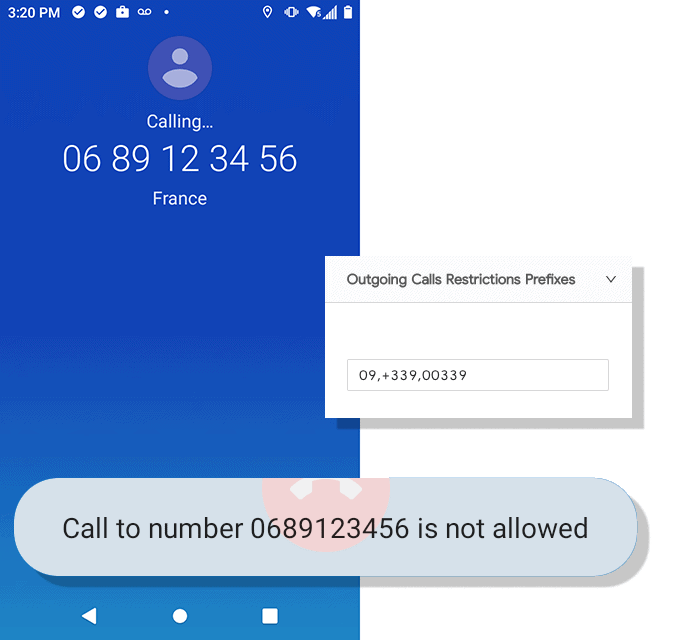 Block outgoing calls
WizyEMM's Companion app can block outgoing calls.
For customers who provide a phone with a SIM card, but want to avoid calls being made to expensive numbers.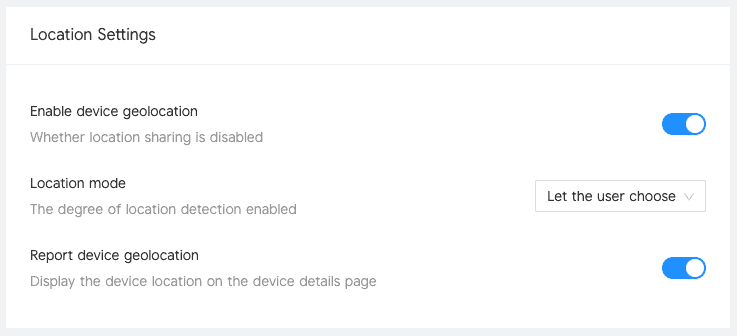 Geolocation Settings
Enable geolocation on devices, without having the companion app reporting the current location of the device. The typical use case would be: enable geolocation on the device to enable the user to use Waze or Google Maps, but do not report the device location for privacy or GDPR reason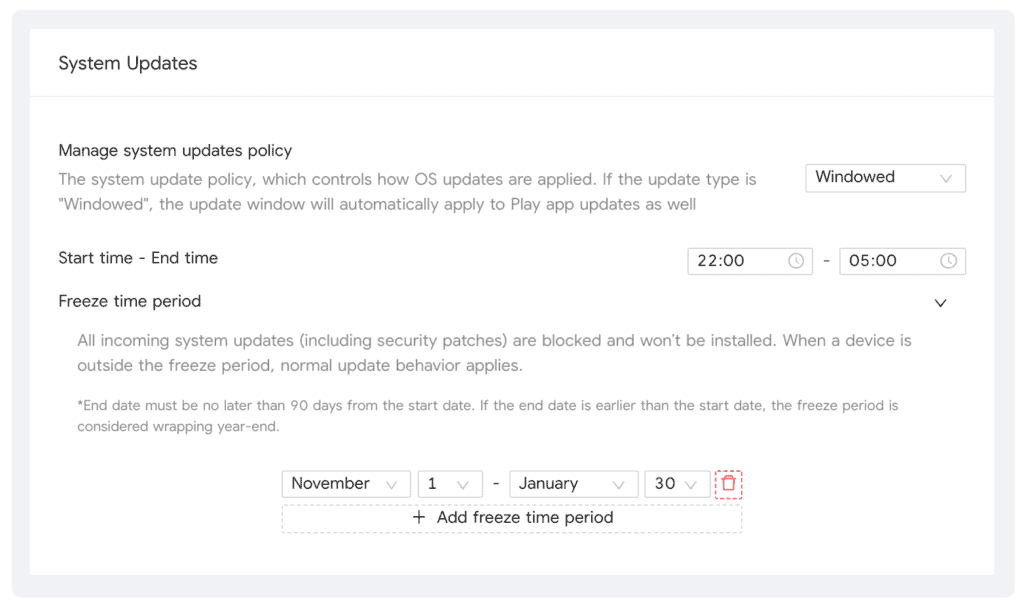 Advanced Application and system updates
Define a daily maintenance window where you want to allow the updates to avoid disturbing the workers during day time
Define freeze time periods where you want to prevent any update to happen
Force a specific application version
Customise your settings
Select the fleet information that matters to you and customise the table columns.
Setup email alerts on application logs errors, low battery, or when a device command failed to apply