Simple, powerfull and native MDM for Android
Secure and manage your Android Enterprise fleet
100% based on Android Enterprise latests APIs and technologies, our Android MDM solution supports CIOs and IT administrators in their mobility challenge, by providing them an Android Enterprise Mobility Management solution where they can push a robust set of policies to devices, thereby securing them.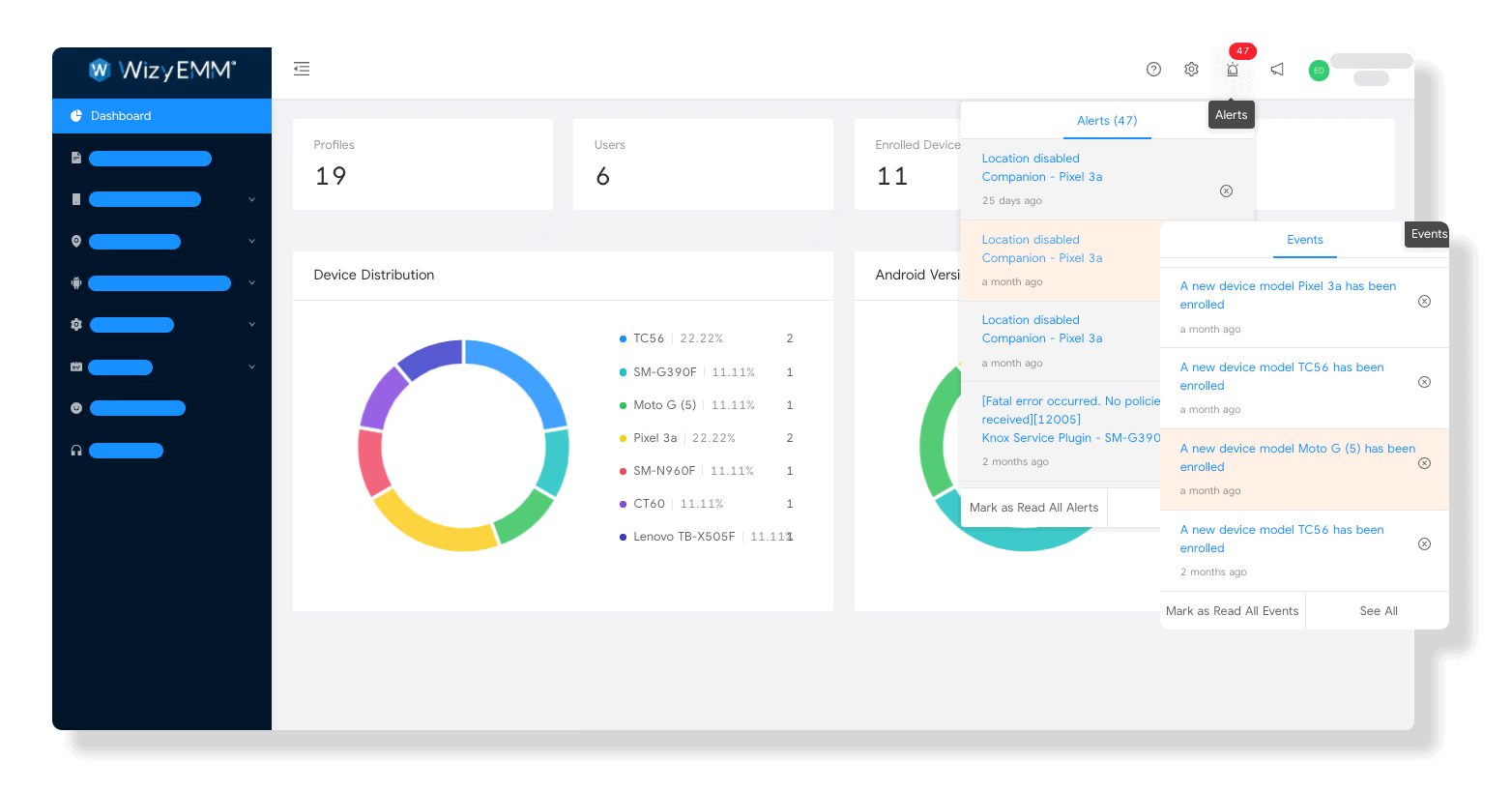 Android MDM made simple
Deploy, manage, secure, track and update your Android Entreprise Fleet
WizyEMM is the first Android MDM solution focused exclusively on Android Enterprise. We built our solution from the ground up for Android, using the newest Android Management API. We are the best-in-breed mobile device management for Android Enterprise deployments, 100% aligned with new Android Enterprise standards.
About Mobile Device Management
Android App Management
Whitelist, blacklist, remotely and silently install or remove applications through managed Google Play store
WizyEMM leverages the power of managed Google Play to remotely and silently install and remove applications in all managed devices. This powerful integration also allows IT admins to upload private business applications, and distribute them to managed devices in a matter of seconds. Enterprise Mobility Management sits on the power of MAM to centralize Android app management. 
About Android App Management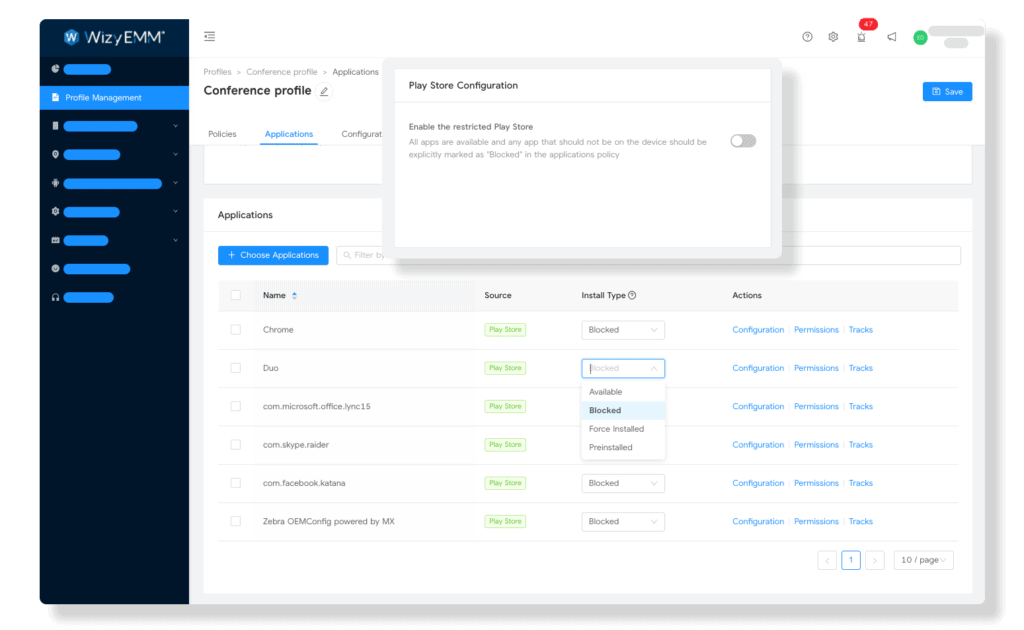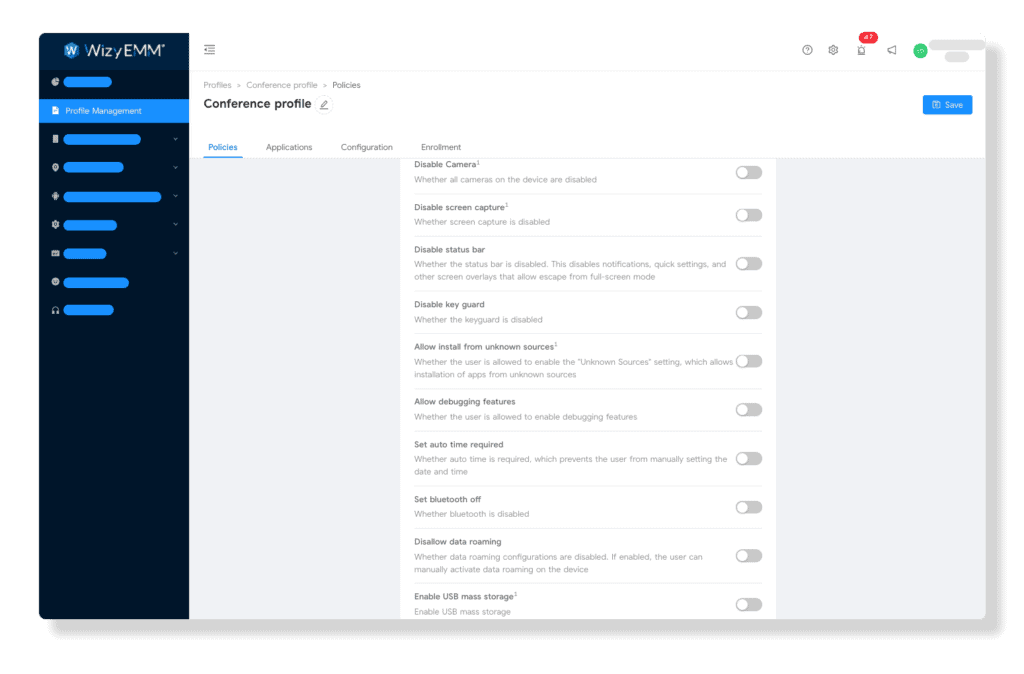 Secure Android Devices
Apply over 50 policies, secure your devices and your corporate data, manage the lifecycle of your devices
Make sure your data is not compromised
Over 50 restrictions available
Password complexity
Hardware restrictions (camera, microphone deactivation, etc.)
Network restrictions (deactivation of calls, SMS, etc.)
Specific network configurations
About Android Mobile Security
Kiosk Mode
Lockdown your Android devices into single-purpose
Control the device usage of your devices by turning them into either single App or multiple App Kiosk mode.
From the WizyEMM console, enable the kiosk on a device, or a group of devices in a few clicks. This will automatically lock down your selected devices into a kiosk launcher, from which users will only be able to access your pre-approved applications.
Fully customize the Kiosk IU in a few clicks
Provide admin password to exit the Kiosk
Block access to settings
About Kiosk Mode
Remote Control
Take control of your devices
Remote view of all Android devices.
Remote control for
HP
Archos
Honeywell
Lenovo
Point Mobile
Samsung
Sony
Zebra
Datalogic
And soon Unitech
About Remote Control
Rugged Device Management
Optimize rugged devices for maximum productivity
WizyEMM is working alongside all major rugged OEMs to answer specific needs for enterprise use cases. We have integrated three of their functionalities to bring added-value for our customers: FOTA, OEMConfig, and cloud services.
About Rugged Devices Management
Android Mobile Content Management
Push files to all managed devices
In a few clicks, IT admins can push a specific configuration file to all devices under management. File retrieving is also possible, such as retrieving logs, photos and full folders from the device.
Push files to the device, a group of devices, a profile
Retrieve files or folders from the device, a group of devices, a profile
Delete files from the device
Work Profile
Helping our customers adopt a BYOD strategy
Separate protect and manage professional apps and corporate data from personal data.
Allow all your employees to work from anywhere in the world.
About Work Profile / BYOD
What is Enterprise Mobility Management?
What is Mobile Device Management (MDM)?
A device management solution in the building block of Enterprise Mobility Management. MDM consists of policies which enable IT admins to configure devices to enterprise specifications, optimize their functionalities, secure corporate data, and manage the lifecycle of devices. Learn More
What is Mobile Application Management (MAM)?
Mobile Application Management (MAM) is what enables Enterprise Mobility Management solutions to manage in a streamlined way mobile applications on company devices. Learn more.
What is Mobile Content Management (MCM)?
Mobile Content Management (MCM) enables IT administrators to push and retrieve data and files from all managed devices. MCM is a part of Enterprise Mobility Management which deepens the technical capabilities of MDM.